Mill Street
Lower Mill Street
Mill Street in
Watertown
begins at
Public Square
and stretches north to the city limits. The street is designated as US Route 11. A
bridge
on Mill Street spans Beebee Island and the
Black River's
great falls. The name derives from
Watertown's
first mills, were built on and around the
Black River
and Beebee Island during the very early years of settlement.
Mill Street 1857
Lower Mill Street early on began as a manufacturing center in
Watertown
. Numerous mills and factories dotted the street on and around Beebee Island and the
Black River
. Further development designated upper Mill Street as a residential area. Despite the loss of much industry in
Watertown
during the late 20th century, the configuration of lower and upper Mill Street remains today.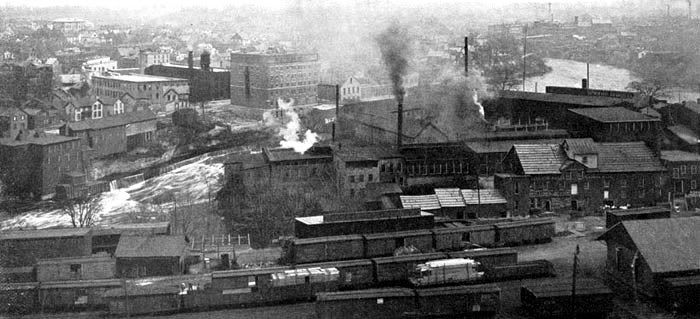 Mill Street and Beebee Island c. 1910
Lower Mill Street and Beebee Island are today occupied by Knowlton Technologies, which comprises a complex of buildings, some of which date to the 1830's. Other, smaller business occupy lower Mill, while upper Mill continues it's traditional role as a residential district.
Notable Structures on Mill Street
Mill Street Bridge
Riverside Flats
See Also
Watertown Streets
This page was created by
AJRII
& has been edited 3 times. The last modification was made by
-
on Apr 11, 2009 7:08 am.