Massey Street
Intersection of Massey and Holcomb 1900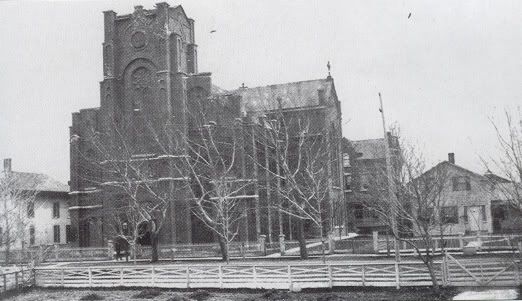 St. Patrick's Church 1880
Massey Street in
Watertown
is divided into two sections. North Massey runs from
Court Street
to
Arsenal Street
and has traditionally been a mixture of businesses and residences. South Massey runs from
Arsenal Street
south towards the city limits and has traditionally been a residential street. The Street was named after Hart Massey.
Lower Massey, or North Massey Street, was part of the site of
Henry Coffeen's
proposed business district, Madison Square, in 1816. Since then, the street has been the site of many schools, churches and businesses.
Notable Structures on Massey Street
St. Patrick's Church
Massey Street School
Arsenal Street School
See Also
Watertown Streets
This page was created by
AJRII
& has been edited 2 times. The last modification was made by - on Apr 11, 2009 6:52 am.