James Donatien LeRay (de Chaumont)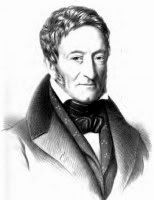 (November 13,1760 – December 31,1840)
The US needed an intermediary with the French, who had helped the country during the war so
Benjamin Franklin
went to France and stayed with
Jacques Le Ray de Chaumont
. Le Ray was a commoner of sorts and a businessman very sympathetic to America, he also had stock in America being successful and paying off their debts to him.
On June 22, 1791,
Governor Clinton
and the Board of Land Commissioners began to plan on getting Northern NY settled.
Alexander Macomb
purchased all land in what is now
Jefferson County
; except
Penet Square
, most of Franklin County and St. Lawrence, all of Lewis County, and part of Oswego. This was called, appropriately enough,
Macomb's Purchase
.
Macomb
purchased the land on behalf of himself,
William Constable
, and Daniel McCormick. After the purchase, the land was divided into "Eleven Towns".
But
Macomb
went into bankruptcy and
Constable
sold large parts of the property to other people in the state. He also went to France to talk to James Le Ray, thinking the
French Revolution
might cause many of the French to move to America. Le Ray invested in land, trying to get back money his family had lost while helping the Americans.
LeRay Mansion
He bought land in
Pennsylvania
but traded it for land in New York State, and lived in America from 1785 to 1790. James married a NJ resident and became an American citizen in 1788.
A tract of land named Castorland (castor is French for 'Beaver') was created by Macomb's Purchase, the land being between
Black River
and
Lake Ontario
and in the middle of what is now Rome and
Watertown
. This was property put together by the Castorland Company run by Peter Chassanis, Le Ray's brother-in-law. Castorland was created to be a new France and the company consisted of thousand's of stockholders who would get land there.
The year 1799 saw the town of
Brownville
settled by pioneer
Jacob Brown
, who had been sent as James D. Le Ray's agent, as well as Brown's wife Pamelia (Williams), and his extended family.
Le Ray rejoined his sick wife in N.Y. in 1802 and sold land to Quakers, who founded the village of
Philadelphia
, NY in 1804.
James Le Ray's agents also founded what is now the village of
Chaumont
, after finding that their first settlement was flooded. Chaumont was named after James Le Ray de Chaumont. He also built a house in Chaumont, the Chaumont house is located where the Chaumont River enters Chaumont Bay and is still standing. It was used as a land office.
He also built a house in
Cape Vincent
in 1815, which is known as "the Stone House" and which was occupied by James' son Vincent Le Ray for a short period. Later it was purchased by members of the colony of Napoleonic exiles in this country.
Jacques, James Le Ray's father, died in 1803 and James returned home for three years. During this time he sent his friend and physician to choose a site for a home in Northern N.Y. The friend found a suitable site on the edge of Pine Plains (now part of
Fort Drum
). A mansion was constructed between 1806 and 1808, but burned and a second one was built in 1827. The mansion was considered to be the best west of the Hudson and was also a base of operations for the bringing in of new settlers and continued to be a landmark for many years. Some of the original rose bushes still grow there in present times.
The town of Leray was established on February 17, 1806 and named after James Le Ray.
James Le Ray returned to France in 1810 and left his oldest son, Vincent (which
Cape Vincent
is named after) for a thirty-year stay. James Le Ray tried to raise money for the Erie Canal, the success of which actually caused doom for his large development plans for the North Country. During this year Grace, his wife, died.
John La Farge
built a wooden mansion at the head of
Perch Lake
, north of a stream on the eastern side of Perch Lake in an attempt to copy Le Ray's grand mansion and gain higher social station in the area. The mansion was burned down.
In 1815, Le Ray sold land to many French, but especially Napoleonic elite who settled in
Cape Vincent
, living in some isolation from their neighbors.
In 1816 Le Ray returned for sixteen years and lived in luxury at his mansion. Le Ray had his own coach, with footmen and attendants. He was frequently seen taking his fine coach around the area for inspection his holdings. He also got to be known for his generosity and kindness. At his mansion he had a priest, a physician, surveyors and engineers. President James Monroe visited him as well as
General Jacob Brown
, commander-in-chief of the Army. Many years later
Roswell P. Flower
's mansion was furnished with some of James D. Le Ray rare furniture, some of which Le Ray had brought from Paris.
In 1817 Le Ray organized
the Jefferson County Agricultural Society
and the
Jefferson County Fair
, the longest continuous running fair in the U.S. and second county fair in the state. There were many distinguished visitors to the fair, including
Roswell Woodruff
, and Judge
Noadiah Hubbard
exhibited oxen and wagons.
Le Ray died in 1840 in France.
The Town of Alexandria was formed on April 3, 1821 and named after Alexander Le Ray, son of James. On April 15, 1841,
Theresa
was formed and named after James Le Ray's daughter.
Plessis
was named after possibly his dog or a town in France.
Cape Vincent
was officially formed from Lyme on April 19, 1849 and named for Vincent Le Ray, James Le Ray's son.
Vincent's son James married the daughter of the Marquis de Valois and the direct line ended in 1917 when their only son, Charles Le Ray de Chaumont, Marquis de St. Paul, died.
None of the subsequent Chaumont's lived in New York but their land interests did stay active and the family kept an agent who conducted a land office for them in Carthage until the1914.
See Also
Jefferson County Pioneers
Notable Personalities Living and Dead
LeRay Mansion
James Donation Le Ray de Chaumont (external site)
This page was created by lectrichead & has been edited 8 times. The last modification was made by
-
on Apr 8, 2009 2:59 pm