Henry Coffeen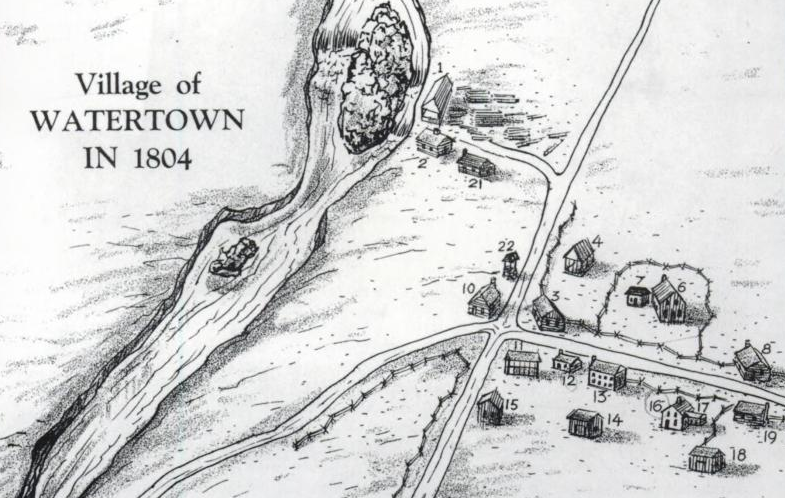 Coffeen's cabin is marked no. "10". Click to enlarge.
Henry Coffeen was a New England pioneer and the first person to settle in what became
Watertown
. He is considered one of the city's founding fathers.
Coffeen visited the area in 1799, and in March of 1800 moved with his family from Schuyler, NY to
Watertown
. Coffeen built
Watertown's
first settlement, a log cabin, near what is today the corner of
Court Street
and
Public Square
. He acquired a large tract of land from the northwest corner of
Public Square
, following what is today Coffeen and West Main streets along the
Black River
towards
Brownville
. The industry minded Coffeen almost immediately built dams and mills on the
Black River
near what is today upper
Court Street
. In 1803, Coffeen, along with Andrew Edmonds built the first bridge to cross the river. This wood covered structure would become known as the
Court Street Bridge
.
The Court Street Bridge
In 1805, Coffeen, along with others, donated their land in the center of the village to the public for the creation of a mall, later to be known as
Public Square
. The square immediately became the hub of
Watertown's
business and commerce. Also in 1805,
Jefferson County
was formed from Oneida County, and Coffeen was instrumental in
Watertown
being named the county seat. Coffeen started Jefferson County's first newspaper,
The American Eagle
, in 1809.
Modern location of Madison Square
In 1815, Coffeen, seeing the success of
Public Square
, wanted to create another business district that would rival the square's success. He acquired land that today occupies upper
Court
, lower
Coffeen
,
Arsenal
and Massey Streets and formed what he called Madison Square, after then U.S. president James Madison. Coffeen even built a large wooden structure on the site to show the project's possibilities. The public did not respond to this opportunity, notably because of Madison Square's distance away from the village center, and the presence of county buildings at the end of the square on Court Street, notably the jail and court house.
Coffeen, discouraged at the failure of the Madison Square venture, left
Watertown
in 1819 and settled in Illinois, where he later died.
Notable Personalities Living and Dead
Jefferson County Pioneers
This page was created by
AJRII & has been edited 11 times. The last modification was made by - on Apr 9, 2009 10:26 pm.