The American Building stood on the corner of
Arsenal Street
and
Public Square
in
Watertown
. The structure was built by Thomas Wheeler in 1850 after Wheeler's
American House
burned in the
Fire of 1849
. In its early years, the building served as both a hotel and a shopping arcade. The building is most famous for being the home of Smith and Moore Dry Goods Store.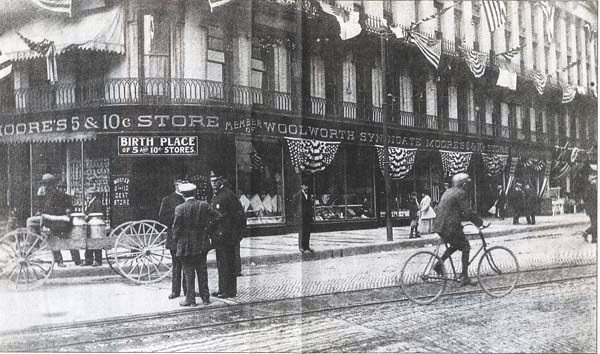 Smith & Moore's Store
In 1878,
FW Woolworth
, working as a clerk at Smith and Moore's, was asked by store owner William Moore to man a counter in which items were set at a price of five cents a piece. Fixed priced merchandise was unheard of at this time, and the success of this idea led to Woolworth leaving
Watertown
and starting the Woolworth chain of department stores. Smith and Moore's later became a member of the Woolworth's Department Store Syndicate.
F. W. Woolworth
bought the American Building, along with a portion of the
Paddock Building
in 1916 with the intention of building a new building on the site. After
Woolworth's
death in 1919, the Woolworth Corporation tore down the American Building, along with the portion of the
Paddock Building
to make way for the
Woolworth Building
, which was completed in 1921.
See Also
Historic Structures in Watertown